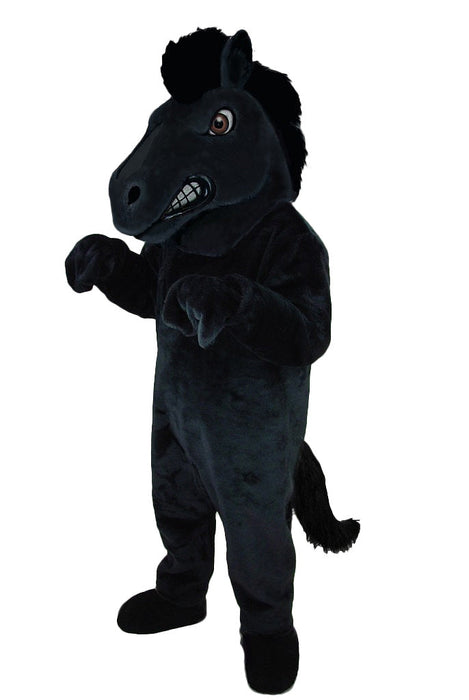 Fierce Stallion Horse Mascot Costume
Original price
$1,644.88
-
Original price
$1,979.88
47171 - Fierce Stallion Horse Mascot Costume
This item is made to order and is Not Returnable.
You are about to purchase one of the highest quality Mascots designed and produced in the United States. Uniquely manufactured and hand painted by skilled artisans.
Shipping & Fulfillment Time
:
Expected delivery time from date of order is 3 ~ 4 weeks:
2 ~ 3 weeks - Production Lead Time
2 ~ 5 business days - Ground Shipping
Detailed Product Description
:
Fierce Stallion Horse Mascot Costume includes Head, Body Jumpsuit, Hands and Feet. You may customize the colors of each part separately should you wish to create a custom mascot using the available colors from the chart above. See customization section below. The hands/mitts run all the way up to the elbow and the jumpsuit has a zipper in the back. So there will be no strain on the neck, the head of the mascot will rest on the shoulders and has straps that you put your arms through for added support.
Vision on this Fierce Stallion Horse Mascot Costume is through a screen in the eyes that allow you to see without being seen.
Approximate Weight of mascot is 12 pounds. The head alone weighs 4 pounds.
Your Fierce Stallion Horse Mascot Costume will include a Product Care instruction sheet that when followed will provide years of continued life and enjoyment.
Free Motorized Fan included ($50 Value) with this Fierce Stallion Horse Mascot Costume! Fan is installed at the very top of the head and is powered by a 9Volt battery for approx. 2 hours of continued use. Fan is not visible from outside.
High Quality Material
:
This Fierce Stallion Horse Mascot Costume Head is constructed with semi-rigid foam sandwiched between two layers of natural latex. This design allows for flexibility that prevents against breakage should it be accidentally dropped. Extensive research has gone into the design to provide the best vision, ventilation, and comfort possible. All mascot heads come equipped with a free motorized fan installed inside the head and additional ventilation panels allow for easy breathing.
One Size Fits Most
:
Fierce Stallion Horse Mascot Costume is designed as "One Size Fits Most" for adults ranging from 5'4"(162cm) to 6'2"(183cm) and chest size up to 60"(152cm).
Branding Color Customization
:
Create a custom Fierce Stallion Horse Mascot Costume using your University, College, School, Business or Team colors by choosing from the available custom colors above. You may mix and match the colors of the jumpsuit, feet, hands and head to your liking to create a unique custom mascot. Eye Color may also be customized per request. Adding a logo to your mascot is not available.
International Orders
:
This Fierce Stallion Horse Mascot Costume can be shipped to most international locations. If your country is not listed in our country list during checkout, please contact us for estimated shipping costs. Please note that there will be additional customs charges for international orders that will be due upon receiving your mascot and this cost is not included in quoted shipping costs.
Discounts available for orders of 2 or more mascots. Please inquire with our sales staff.
Questions? Please feel free to contact us with any questions