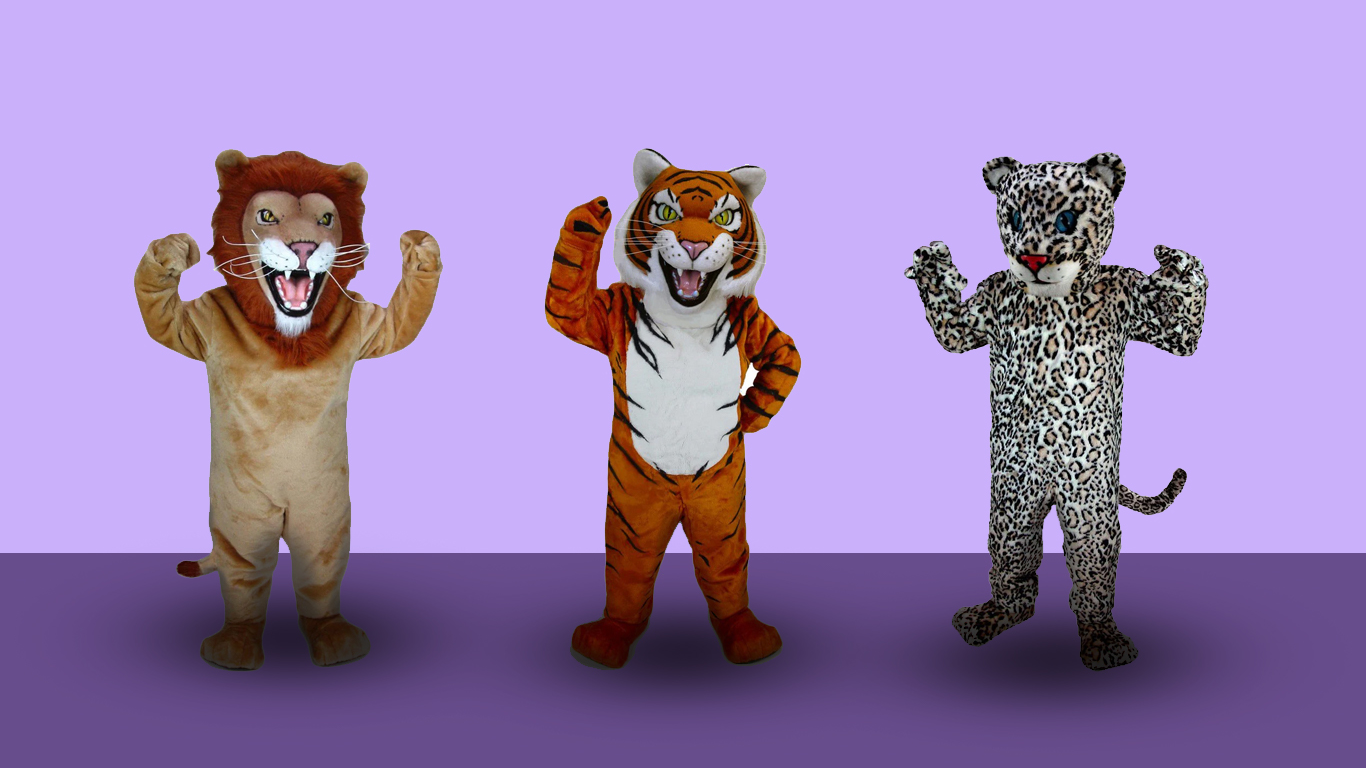 "You're gonna hear me roar!": Top 5 Lion and Tiger Mascot
We are sure that anyone who has watched The Lion King, would simply be in love with Simba. Despite the strong and threatening attitude of felines, it is one of the most important animals in the jungle. With that, these are the Top 5 Lion and Tiger Mascots Costume that we picked out for you to try!
            You can never go wrong with a friendly-looking lion! Here is Louie The Lion Mascot Costume which is perfect for any jungle-themed occasion. This mascot is covered with brown, silky, and smooth fur, enticing and attracting anyone to touch it. It also has these big, clueless eyes partnered with a pair of eyebrows and a little smile to make the lion look more friendly. It even has its hair! Lastly, who would forget whiskers?
           Who would not love a scary, frightening, and wild-looking white tiger? This is the White Albino Tiger Mascot Costume which is perfect for asserting dominance in any event. It may be used in sports, team building, or even Halloween! Its wide mouth that highlights its fangs and gnashing teeth will surely scare off anyone. Aside from that, its blue eyes make it scarier. This mascot is covered with a combination of black and white fur. Among others, this mascot is unique in itself since it highlights or signifies albinism which is a rare case for some animals. So, if you want to stand out among other members of the jungle, then this White Albino Tiger Mascot Costume is definitely for you!
            What better way to open an event than with this cute, clueless, hairy, and friendly-looking bobcat? From the name itself, Friendly Bobcat Mascot Costume, it surely is looking like a very huggable and sweet bobcat mascot! It has hairy fur from its neck down to its belly which we are sure, kids will definitely love. It has this pointy ears and wide eyes which make this mascot funny when you look at it. This mascot is covered with brown and silky fur. So, if you are looking for a mascot for an occasion that targets the attention of children, then this mascot is definitely a good choice for you!
            This clearly depicts what a Bengal cat really is – very sweet and loving but still, a wild cat! Try this Bengal Tiger Mascot Costume in any of your events as this will surely be loved by many. With its brown to red tone, it will be somehow scary since its color is not so friendly. But, among others, this mascot has a very unique expression. It is showing a kind of sad but sweet expression that most will definitely love.
            Again, who would not love a well-patterned mascot? This is the Fierce Leopard Mascot Costume which totally depicts what a fierce leopard looks like in real life. This is a tri-color mascot that consists of white, brown, and black colors to highlight the pattern of a leopard. Plus, this mascot costume is showing the fierce attitude felines have!
OOPS! Before you go…
These Lion and Tiger Mascots Costumes were just one of the many ways to keep an event or occasion alive. As you pick the best feline mascot, we are sure that you can definitely show your audience the desired mood of your event.