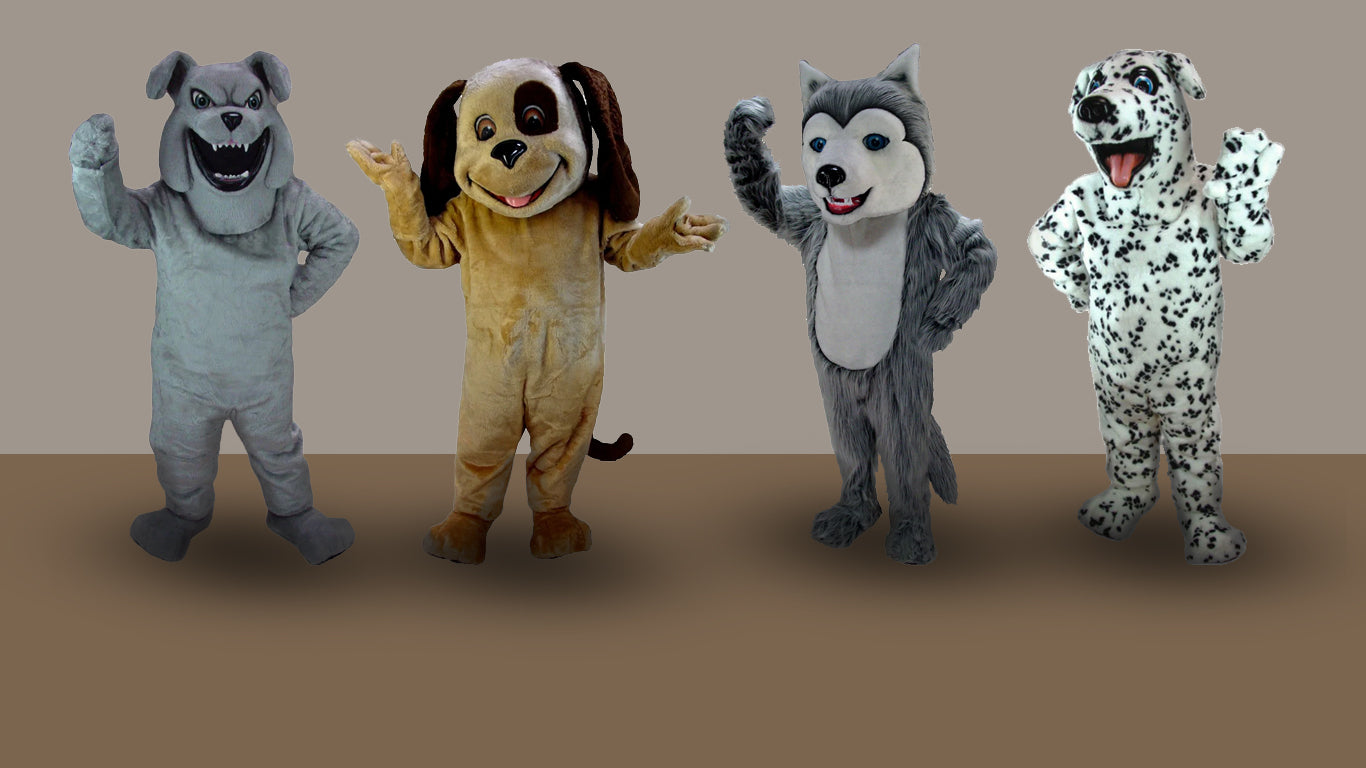 "Woof-woof!", Man's Best Friend: Top 5 Dog Mascot Costumes
Who let the dogs out? Woof-woof! We are sure that dogs are loved by many! So, picking out the best dog mascot can be hard for anyone especially if they own different breeds of dogs.
To help you out, here are the Top 5 Dog Mascot Costumes that you will definitely enjoy!
            Who would not love an active, friendly, and loyal black Labrador? Wear this cute and friendly-looking Black Labrador Dog Mascot Costume in any of your future events. With its wide eyes, mouth open, and tongue out, this will surely be loved by all fur moms and fur dads out there! Not only that, but this mascot is also covered with pure and velvety black fur which totally shows and reflects a friendly expression. We are sure that this mascot will fit any event as its eyes spark with joy!
            Do you like a cute, little, and clueless dog? Then, this Brown Dog Mascot Costume is for you! This mascot is unique because unlike others, it has its very uniquely shaped and well-defined eyebrows which totally ensemble a clueless dog. It also has flabby ears! Its eyes are also shaped into looking like it is clueless, and it has a big mouth which makes it look like it is kissable. Despite its confused look, this mascot is still looking very friendly!
            Of course, no one hates bullies (we mean, the dog)! Wear this strong-looking Tan Bulldog Mascot Costume in any sports event as it totally shows the spirit and grit that a bulldog has. This mascot is covered with tan colored fur and a lighter color on its belly. It also has cute little ears, but beware! This mascot has this very unique expression which for sure will scare weak creatures. Unlike others, this dog mascot shows its sharp canine teeth. Perfect for any sports event and team fights, right?
            The fluffy, sweet, and huggable dog is what everyone loves. Wear this Sheepdog Mascot Costume to make your target audiences fall in love with you. This mascot has a fluffy black-and-white combination of fur and black spots in its body. It also has long ears; small and round eyes; and a smiling face with its tongue out. This mascot is perfect for any event or occasion as it just reflects a sweet and playful dog that everyone adores!
            Last but definitely not the least is this cute Tan Dog Mascot Costume. The classic and very sweet looking dog mascot that you could ever find. Unlike the first brown dog, this mascot is covered in tan and shiny fur. It also has its ears down – totally telling you "Hey! Pet me!". It also has its eyes wide open and welcoming arms that will for sure entice people to hug this mascot. On top of that, this cute mascot is definitely radiating friendly and sweet dog energy.
OOPS! Before you go…
Though there are a lot of different choices of Dog Mascot Costumes that would fit any event or occasion as you see fit, these dog mascots will definitely just make the event or occasion nicer and more cheerful. As you pick the most fitting dog mascot, we are sure that it will undeniably attract people and be fallen in love with these mascots!