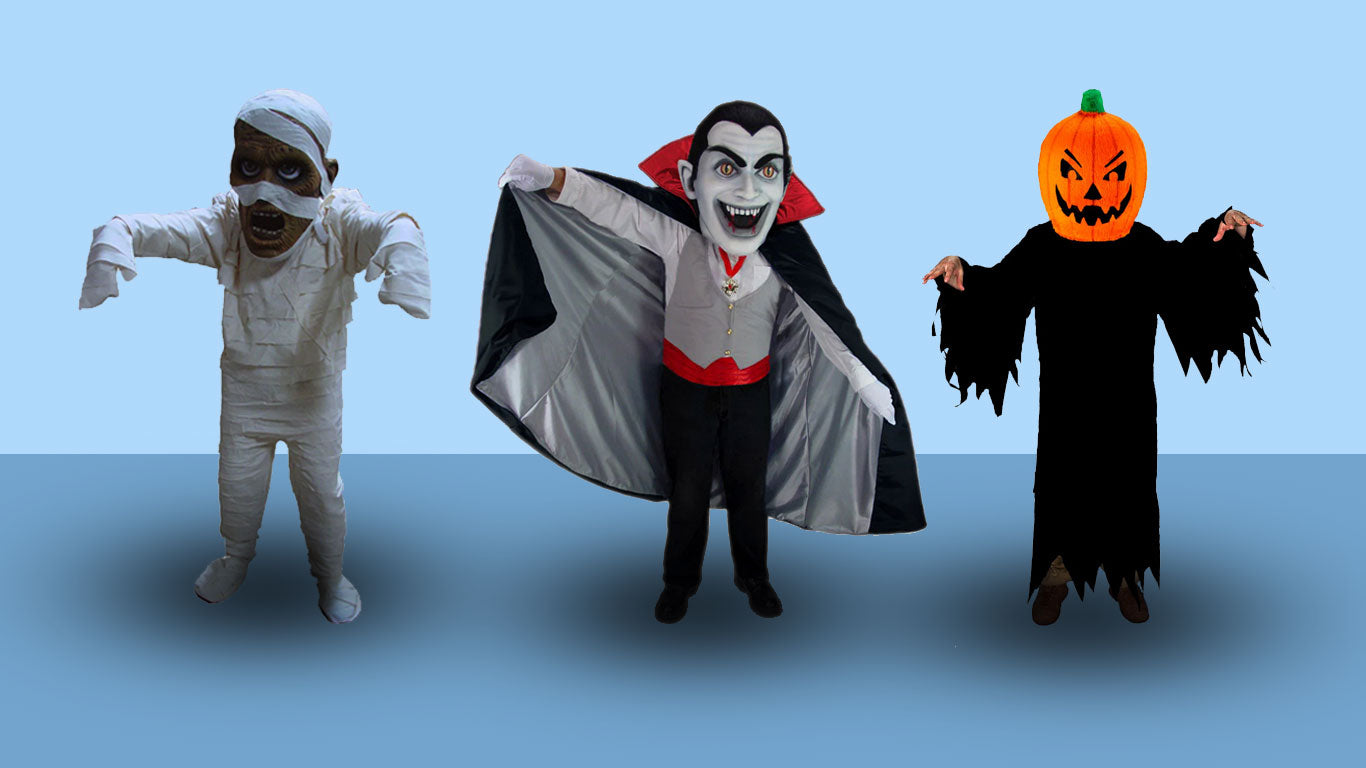 Trick or Treat: Top 5 Halloween Themed Mascot Costumes
It's 'Trick or Treat?' season! This coming Halloween can be extra special with costumes that attract sweets and chocolates.
Let's be real–we want the scariest, most unique, and high-quality costumes to show off, but we always came after the fun. These Halloween mascots are the playful way that stands out at every party, demanding attention and keeping the Halloween spirit alive.
These are the Top 5 Halloween Themed Mascot Costumes you can try!
         Who wouldn't know this guy? Wearing the Skull Mascot Reaper Mascot Costume is the timeless and classic way to represent death. This is perhaps the most popular mascot on any scary occasion, whether on Halloween, horror booth, or even in movies! A guy with a dark hooded robe and white gloves, you can reap not just human souls but treats this Halloween.
         If you are finding the best way to win a party, wear the Evil Clown Mascot Costume and you are ready to hear a lot of crying noises. The supposedly funny guy turned evil–the fear rooted from childhood is truly brutal in all ages. This clown mascot has colorful clothes, hair, and hand-painted makeup which will never fail to gain attention even when it is not necessary.
           The Lucifer Devil Mascot Costume screams a 'Welcome to Hell' in every way. The two horns boldly denote the symbol of the opposing angel, no one will mistake this Lucifer. This Devil mascot will never go out of style on any horror and Halloween occasion. This is the best mascot to wear to welcome your friends to this coming Halloween party!
          Who doesn't like vampires? Or should I say, who doesn't dream to love a vampire? This Vampire Mascot Costume Head is a cute way to win many hearts, especially from children if you want a milder way to scare people. This is a much more playful yet elegant-looking mascot for Halloween on the list.
           Pumpkin is mandatorily present every Halloween, in fact, it is part of our culture to involve pumpkin in drinks, decorations, and presentation. By wearing this Jack-O-Lantern Mascot Costume, it will undeniably emphasize the beginning of this season since this is a unique representation of Halloween. Just like the vampire, this is also a cute way to be scary, not on your friends but to evil spirits.
OOPS! Before you go…
It is best to know that these selected top 5 mascots for Halloween costumes are just one of the few ways to keep the spirit of Halloween alive. As we wear our best bet to stand out, these Halloween Themed Mascots can undeniably attract a bunch of treats, hearts, and a lot of fear along the way without even trying at all! What are you waiting for? Make your Halloween more special by purchasing mascots that are specially made just for you!