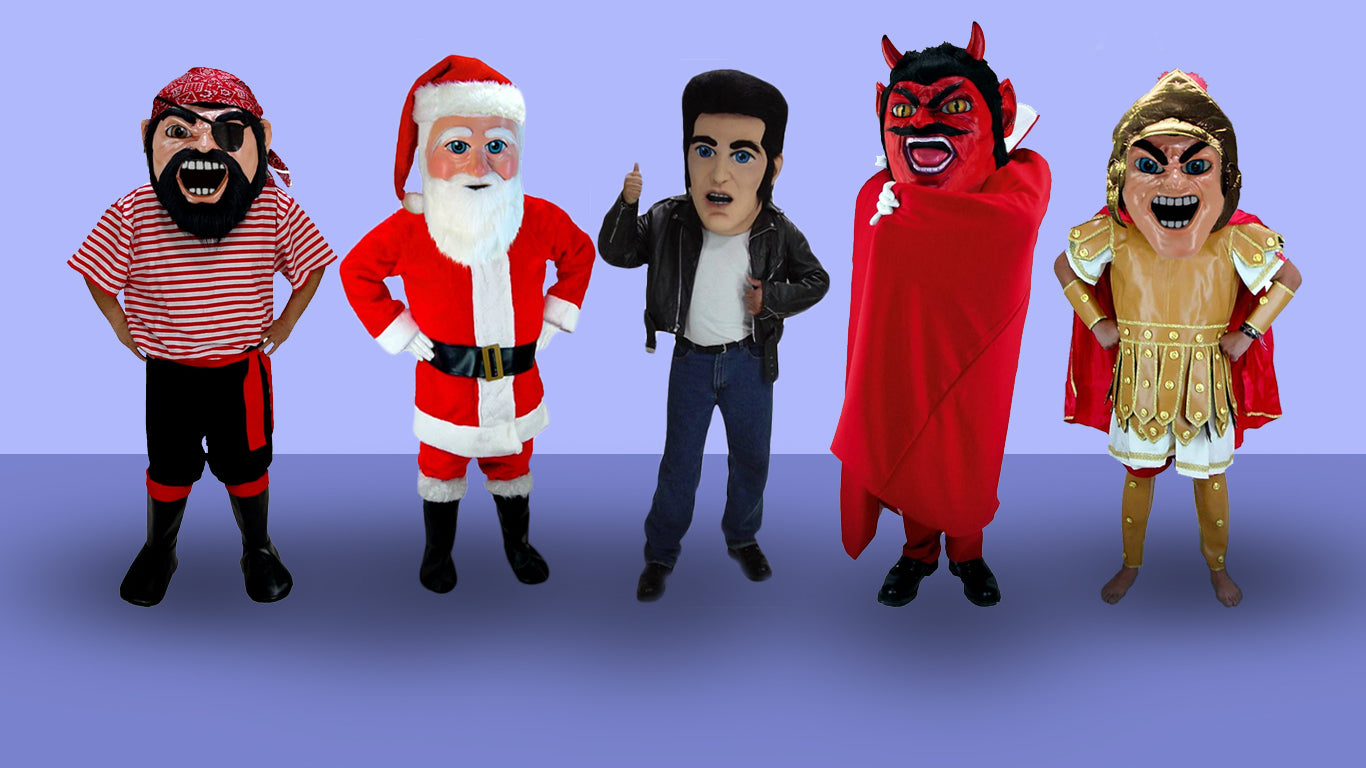 The Remarkable: Top 5 Character Mascot Costumes
There are characters that are easily identifiable due to their remarkable appearance. It may spark childhood memories and innocence within us. These Character Mascot Costumes are best worn at children's parties, holidays, or any extraordinary events.
Here are the Top 5 Character Mascot Costumes you should try!
          This fictional character originated from Irish folklore–a tiny old man in a green suit, hat, high socks, and his trademark red hair beard. This guy is looking articulate and diplomatic but in reality, he was naturally born mischievous, treacherous, and outwitting humans. This Leprechaun Mascot Costume is best worn on St Patrick's Day which makes this a historical representation of that holiday.
          This well-toasted cookie with detail of white linings, blushing in bright red, blue eyes, and smiling lips undeniably give us the most awaited holiday–Christmas. Santa Claus is overrated and it is now time for us to do something different from usual, like this Gingerbread Cookie Mascot Costume that shows his friendliness, optimism, and charismatic aura for everyone to witness. Who would've thought that this Gingerbread Cookie is not just a must-try snack on holiday but also one of the best mascot costumes that anyone can try especially this coming holiday?
          Another way to make the holiday extra special is to wear this Snowman Mascot Costume. This giant blue-eyed snowman with a red scarf, a huge black hat, boots, and buttons might look too cold, but the presence of this character is heart-warming that will surely be loved by many. How cool to bring a snowman wherever you are? This costume is best to be worn in any Christmas and business events to entertain all the visitors.
          Ironically, this Redbeard Pirate Mascot Costume has a black beard, red details in a frock coat, and the trademark of a charismatic rebellious pirate–an eye patch and hat with a skull symbol. This mascot costume is best for any party! Pirates always effortlessly stand out in the crowd, but this guy is way different because of his wide smile with perfect white teeth, truly giving us the friendly vibe we all wanted at our parties.
              Perfectly made for Halloween, this Witch Mascot Costume is in perfect black clothes and a signature slim hat. This old witch has a bright green skin color, missing teeth, a long pointed nose, and wrinkles. Everyone knows him from being a villain in every fairytale story, he has the ability to cast and formulate a spell–a complete doer of the Devil's work. No one will dare to compete with this guy considering how much power he holds even in winning the attention of the crowd.
OOPS… Before you go!
Characters not only participate in the stories but also became symbols. The listed Top 5 Character Mascot Costumes are just some of the few must-haves that will spark joy and memories for everyone.