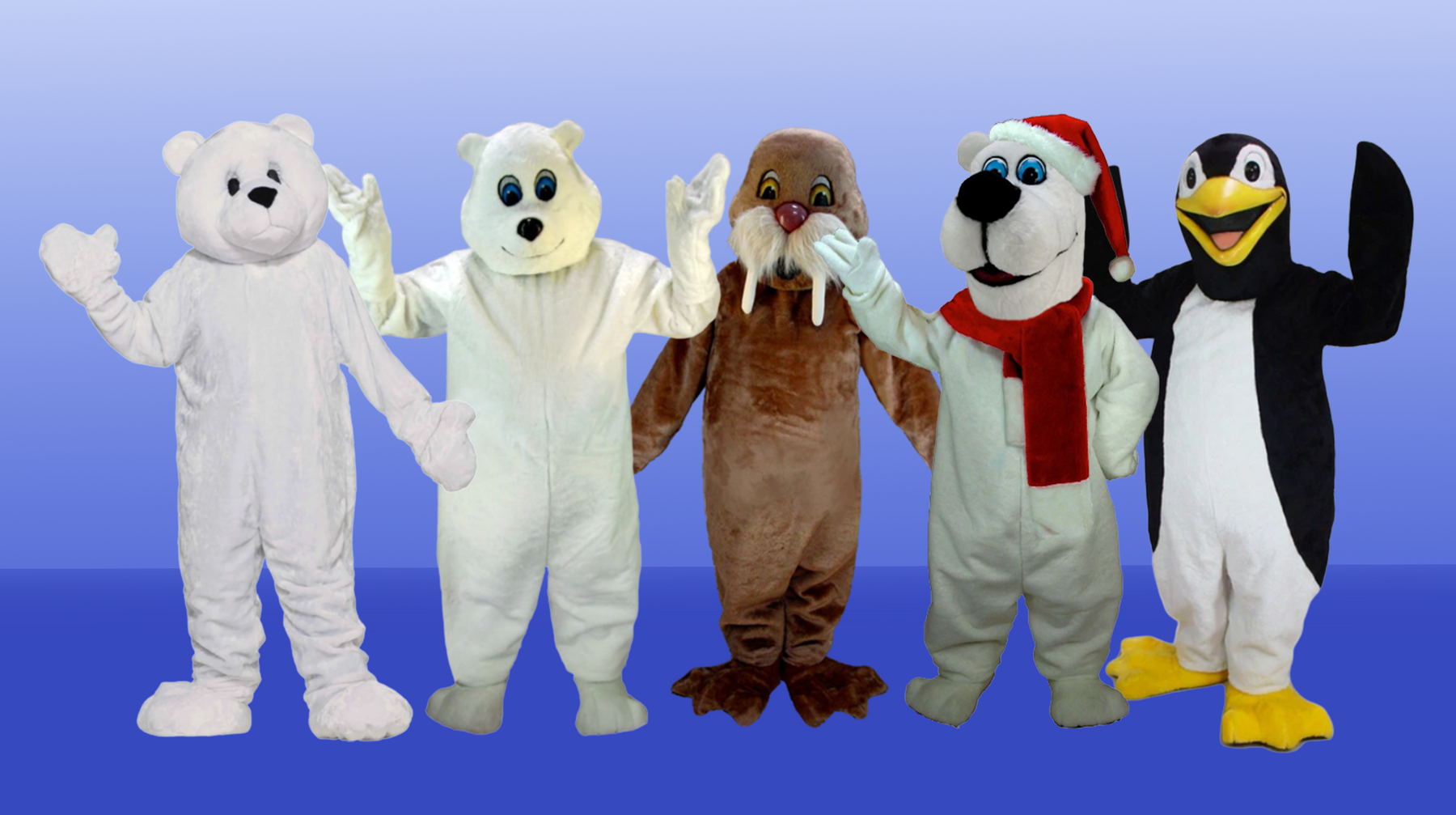 The North Pole: Top 5 Arctic Creature Mascot Costumes
These creatures are usually found in the North Pole, but hold on, you can bring them home with you even under the bright sunlight. These costumes are best for educational purposes, school events, birthday parties, business openings, and many more.
Here are the Top 5 Arctic Creature Mascot Costumes you must try.
          This Walrus Mascot Costume is best to be worn if you are trying to find a fin-footed, curious, and innocent-looking guy to entertain kids and participate in any artic theme events. This is a cute brown coated with two long teeth that can definitely give a warm welcome to your guests. Try this Walrus Mascot Costume to host your parties and it will never fail to lighten up the mood with its unique features of a white mustache and red nose.
         This gray coated with bright blue eyes is unmistakably a cute seal! Every kid must meet this guy, especially since this mammal is usually shown in pictures. Wear this Grey Seal Mascot Costume to awesomely introduce yourself under the fin-footed and playful smile. This is best to be worn in swimming competitions or any huge school aquatic event.
          Who would have thought that bear could look this friendly? A white giant, with blue eyes, and happy face is best to make your holidays extra special with love. Its red hat and scarf embody the time of giving, instead of disguising as Santa Claus, you can try this Christmas Bear Mascot Costume to have a unique way of uplifting the spirit of Christmas with your loved ones, parties, or even business.
          This giant bear is terrifying in real life, no one will dare to come closer and bother their lives but not this guy. I bet everyone will keep their eye on you and try to hug you tight if you show up under this Polar Bear Mascot Costume. The white color naturally reflects the snow which makes this the perfect costume to host the best skating events, Christmas, and birthday parties. The showing wide smile of this Polar Bear is truly irresistible to not adore. This will effortlessly attract and give the extra fun everyone wanted.
          We reserve the last for the best, who would've mistaken this cute little penguin? Absolutely no one! This Tuxedo Penguin Mascot Costume has its unique yellow webbed feet, cute wings that couldn't even fly, and adorable smiles that will never fail to win the hearts of many, not just kids but also adults. Like the other artic theme mascot costumes, this is also best to be worn in any events that represent their natural habitat. This is the safest way to win any hosted parties since everyone truly adores this little creature.
OOPS… Before you go!
Although these creatures seem unable to survive hot temperatures, these Arctic Creature Mascot Costumes are guaranteed made to bring comfort as you provide remarkable fun events for everyone no matter where you are.