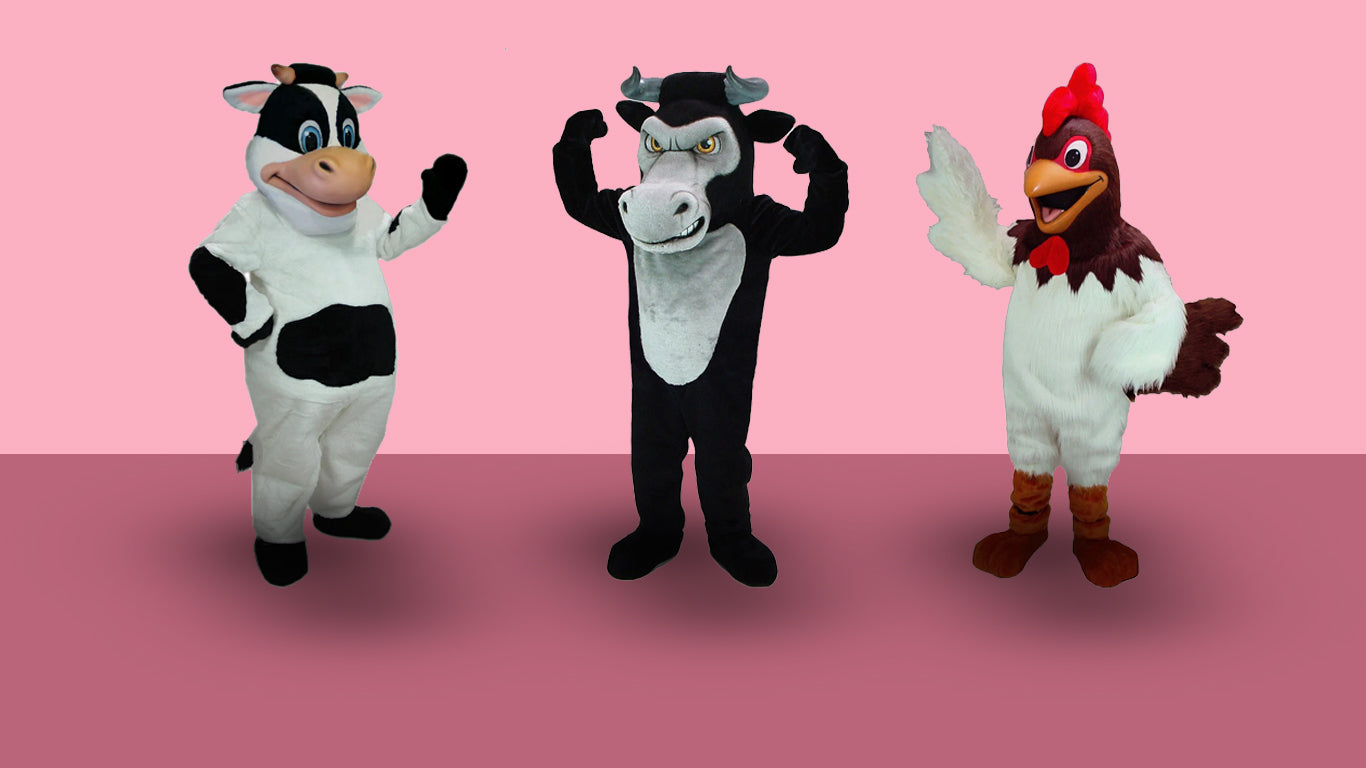 Old Macdonald's: Top 5 Farm Animal Mascot Costumes
Farm animals are one of the common representations in the food businesses–chickens, pigs, cows… You have seen it! This is best worn in business openings or events to host and make the parties remarkable.
We listed the Top 5 Farm Animal Mascot Costumes you can try!
            The most popular guy on this list is this white-coated chicken with a red comb and yellow beak. This Chicken Mascot Costume is best worn at business openings especially because it has a warm smiling face, a red collar that makes him look like a sophisticated yet funny guy, and yellow feet with black details. If you were looking to engage and attract more costumer, this Chicken Mascot Costume is the right one for you!
            This Betsy Cow Mascot Costume is also best worn at business openings, particularly anything related to dairy products. Everyone will surely love this blue-eyed, fluffy Cow Mascot! It has a white coat with perfect black spots to make it aesthetically pleasing to everyone, which makes it perfect for any promotional events to attract new customers and make your brand remarkable.
            We all know where the Greatest of All Time came from, it was the goat! This Goat Mascot Costume has the classy look yet fierce thorns facing backward on the head. It is similar to the actual look of the goat rather than cartoony, but this Goat Mascot Costume can top up your game just by its presence. This is best worn at the parade, school events, or competitions… Let them know who is the most valuable!
            This Pig Mascot Costume is looking adorable in pink! The color of this mascot is perfectly detailed despite being fully covered in pink. The nose and inner ears have a lighter tone, it also has blue eyes and a playful smile with a tongue sticking out. This is surely the best bet to welcome and attract customers to your store! Definitely perfect to wear at parades or school events to make it alive and fun.
            Last but not least is this Fierce Stallion Horse Mascot Costume, this Stallion Horse is fully covered in black except for the eyes and teeth. This also has that angry and competitive look unlike the first four Farm Animal Mascot Costumes, making this a perfect fit for a wide range type of events such as Halloween, parades, birthday parties, and school events. If you want to make your upcoming events different, then you should definitely try this Fierce Stallion Horse Mascot Costume!
OOPS… Before you go!
These are just the Top 5 Farm Animal Mascot Costumes you can find in our Mascot Store! There are a lot more options available on our site to make your business openings, parades, parties, and events remarkably fun and more attractive to your target new customers. We are deeply excited to see these Farm Animals in the street, bringing smiles!