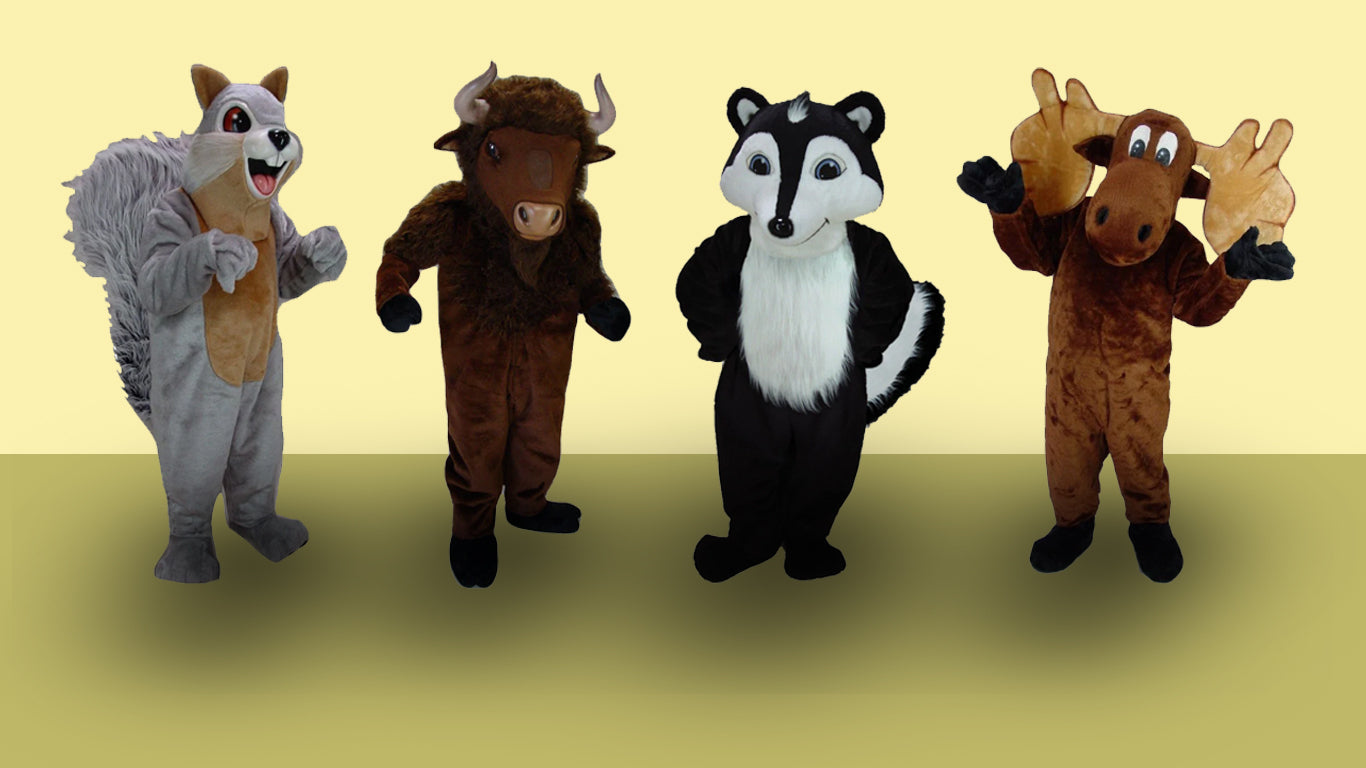 Into the Woods: Top 5 Forest Creature Mascot Costumes
Forest Creatures are usually terrifying because of their natural instinct for hunting and dominance, but some of them are small but terrible, especially in having a sustainable way to survive. These adorable Forest Creatures' appearance will definitely make any event more memorable and fun.
We listed the Top 5 Forest Creature Mascot Costumes you can try!
           The first forest creature on the list is this brown fox with white lining details and a smiling face. Foxes are natural hunters who embodied strength, speed, and dominance, but this Fox Mascot Costume also shows the adorable and fluffy side of this creature. It has a welcoming appearance ready to live up to the spirit of celebration of any occasion. This is best worn in sports, cosplay, school fair, and even birthdays to show competitiveness yet friendly vibes for everyone.
           This Roadrunner Mascot Costume is covered in white fluffy feathers, brown tails and head with signature ponytailed-looking hair. This creature is best worn in the street for promotional events or business such as car wash, walkaround cosplay, amusement park, and racing competitions. The appearance of this Roadrunner will surely make the experience alive and more memorable than you can ever imagine, I mean, who wouldn't want to have a warm hug and a photo with this adorable mascot?
            This naturally small chipmunk can appear big in any upcoming events. The well-known chipmunks we all know are Alvin, Simon, and Theodore, but through wearing this Chipmunk Mascot Costume will surely make you the star of the day. The trademark two teeth on the front, brown skin, big sparkling eyes, and impeccable details in this mascot make it the best costume to wear for any promotional events you have if you desire to be memorable.
            The bushy long tail is undeniably recognizable from every angle–this gray-coated rodent with brown color details, two large front teeth, black and white looking eyes will surely make the kids' heart jump in excitement. This Squirrel Mascot Costume is best worn at any school fair, children's parties, roleplay, and any outdoor promotional events to step up the game. The natural friendly appearance of this Squirrel Mascot Costume can definitely welcome visitors with warmth and the biggest fluffy hugs.
            Last but not the least on our list is this Beaver Mascot Costume, it was covered in brown with exposed two up front teeth. This little guy is a big symbol for perseverance to hone personal gifts for survival. Beaver Mascot Costumes are usually seen in university events to bind a community that strive harder not just purely to survive but become their best self to contribute in the society. This is best worn in school events to promote grit and courage to face shortcomings.
OOPS… Before you go!
The listed Top 5 Forest Creature Mascot Costumes are just one of the few must-try in your upcoming events. Different options are still available in our Mascot Store for you to try! We hope to see you beneath this Forest Creature Mascot Costumes giving the best time for everyone to enjoy.