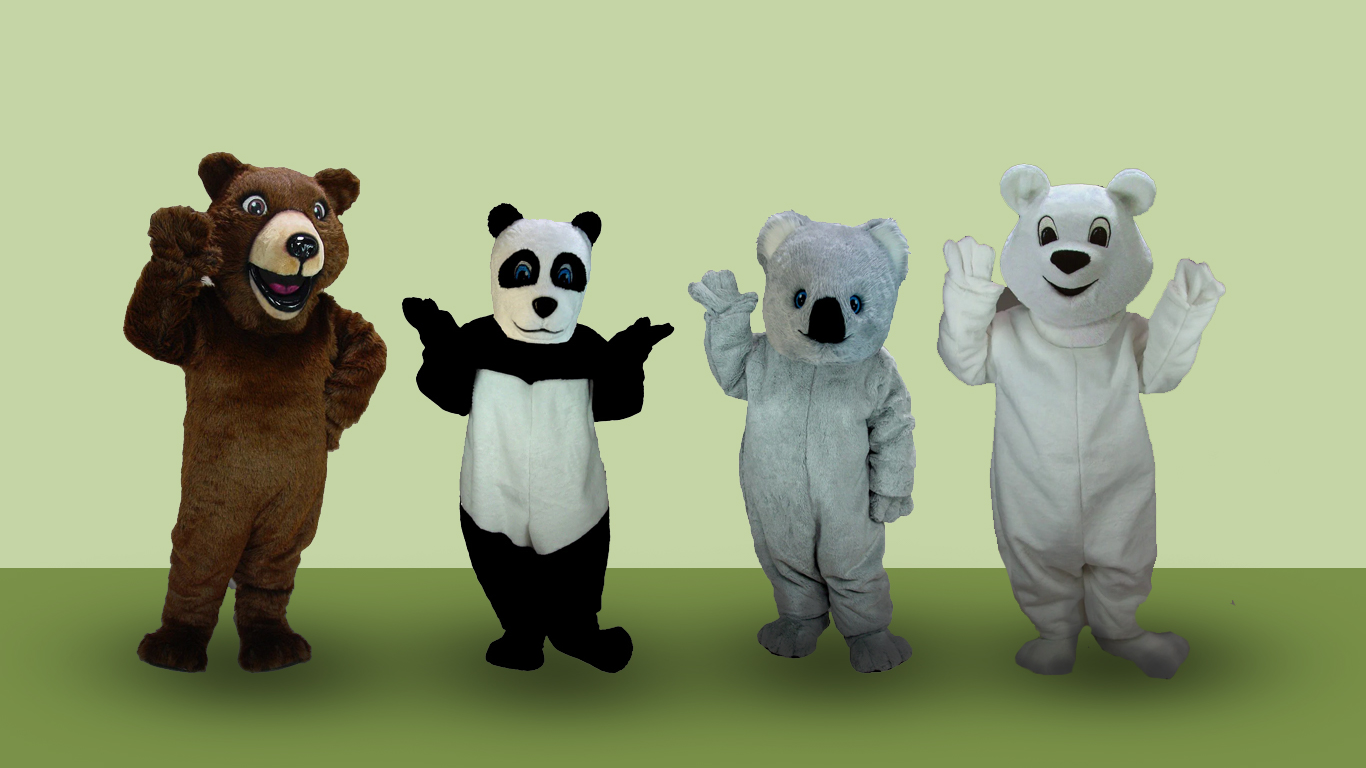 Huggies: Top 5 Bear Mascot Costumes
Picking a bear mascot that fits any event for any purpose is quite difficult for some. Here, we listed down the Top 5 Bear Mascot Costumes that we can consider for our upcoming parties. May it be for your business, school, birthday parties, and even your surprises to your loved ones.
            Is there any other way to celebrate an event without this happy and cheerful-looking panda? Wear this Happy Panda Mascot Costume with cheerful eyes and a radiating smile that will surely radiate happiness among those who can see this. This Panda Mascot is also huggable which makes it more exciting for anyone especially kids to have a picture with this Panda and to have a memorable moment of hugging Happy Panda!
            If you ever find yourself in love with Grizzly of We Bare Bears, then this Bear Mascot Costume is for you! With his wide smile and cute little eyes, this will for sure be loved by many. This mascot is covered with shiny brown fur that realistically ensembles the fur of a true bear. Like Grizzly, this mascot radiates a fun, huggable, and lovely bear which will surely attract people to take pictures with him and for sure – to hug him.
            Speaking of We Bare Bears, do you know who Nom Nom is? If not, then this Koala Mascot Costume will help you recognize whom we are talking about. With his cute ears and big black nose together with his eyes wide open, you will surely love this mascot! It is also covered with grey fur which totally reflects what a koala looks like in real life.
            Do you need a mascot to surprise your loved one? For the anniversary, perhaps? Or for a proposal? Then, this Valentine Bear Mascot Costume will surely help you in surprising your partner! Though its name indicates that it is for Valentine's, this mascot can be used on any occasion. This has a combination of white and red colors. It has a big heart in the middle and two cute little hearts in its ears. It also has big, round, eyes which totally shows how lovely this mascot is and of course, it is coupled with its lovely smile. This is perfect for surprises as it is so huggable and cute!

            Do you need a mascot for your school team? For any sports event? For birthday? How about your business? Or for this upcoming Halloween? Then this, Bongo Black Bear Mascot Costume is totally for you! As seen from the photo, this combination of light brown and black colors totally resembles the fur of a bongo black bear. It also has two, cute, little ears, coupled with its smiling eyes and big, wide, and lovely smile that will for sure be loved by everyone.
OOPS! Before you go…
These bear mascot costumes are just one of the ways to keep your celebration fun, interactive, and alive. As you pick the most fitting mascot for your event, these bear mascots mentioned can undeniably attract your desired audiences to get them along with the event you wish to have!