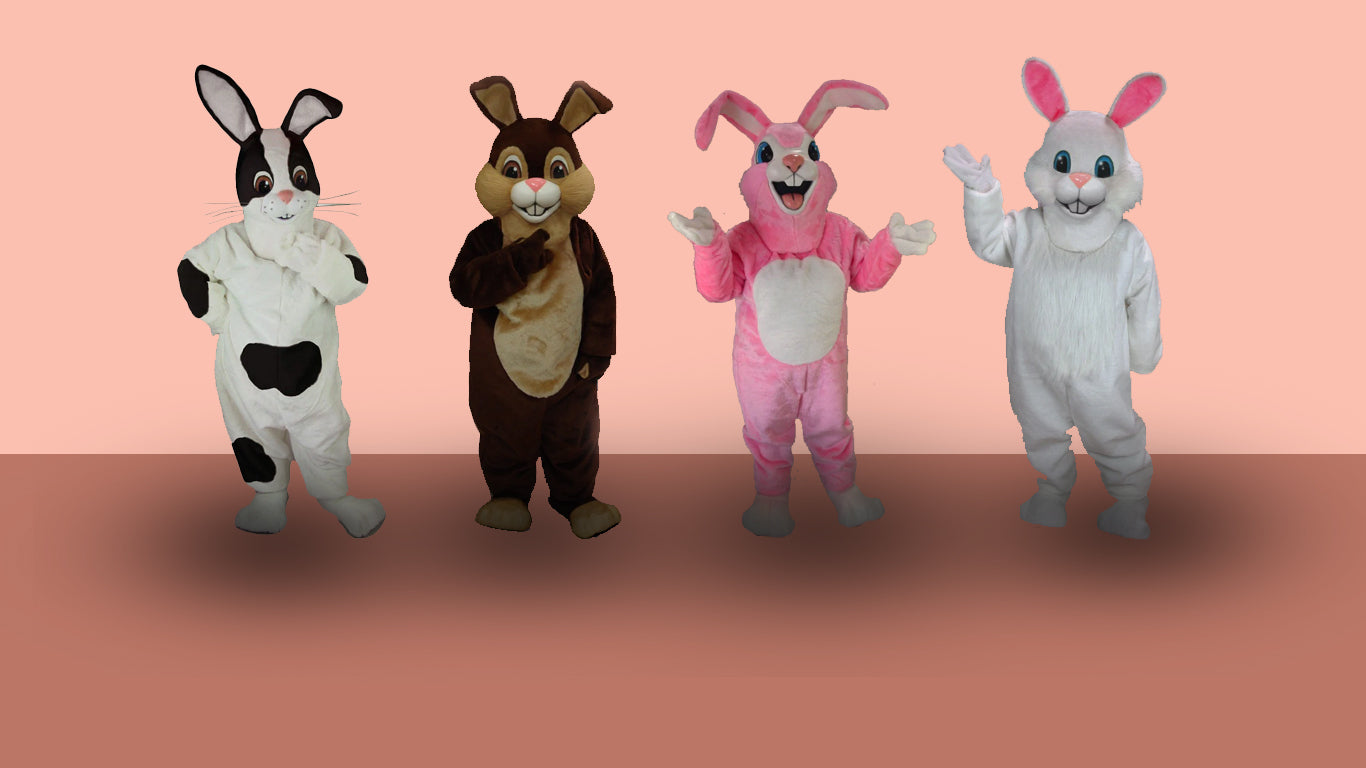 Easter: Top 5 Bunny Rabbit Mascot Costumes
Bunny Rabbits will definitely be the star of the party with their affections and naturally impeccable social traits. Their trademark large ears and pinky nose is what set them apart from the rest, besides, these are not just cute pets but also the historical symbol of fertility on Easter Day. Showing in events with these Bunny Rabbit Mascot Costumes will drive everyone crazy in excitement and amusement!
We listed the Top 5 Bunny Rabbit Mascot Costumes you can try in your next gatherings and events.
          The first one on the list is this irresistible white-coated fur bunny, it has the traditional pinky nose and inner ears, blue eyes, and two front teeth with an almost smiling face. Everyone will recognize this little bunny's appearance which makes this Hoppy Bunny Mascot Costume a perfect choice for any promotional event or even on a simple Easter day to make it extra special and fun for everyone.
          If you were looking for another variant of color for the celebration of your Easter Day, this Grey Easter Bunny Rabbit Mascot Costume is the perfect one for you! It has the signature appearance of a Bunny Rabbit–a pink nose and inner ears, two front teeth, and blue eyes. This Grey Easter Bunny Rabbit Mascot Costume was made with strong attention to detail which leaves us some spot of white shade to make the gray color pop. This is best worn in promotional events, Easter Day, and birthday parties due to its traditional symbol and friendly vibe.
          This Blue Bunny Mascot Costume was coated in a pastel color which makes it a great bet for any events surrounding kids. It has the more fun detail of a colorful tuxedo without losing the natural trademark of a bunny which is the pink nose and inner ears. This Blue Bunny Mascot will surely make any birthday party, promotional event, and festival more memorable by giving its warm appearance.
         How fun do you want your party to look like? This Pink Rabbit Mascot Costume has a white shade of color on the hands and tummy to make the bright pink color pop! It instills the trademark of a bunny but this adorable Pink Rabbit is sticking its tongue out which makes the appearance more playful. This is best worn in business openings and promotional events due to its remarkable look.
         This Brown Bunny Mascot Costume is the most unique-looking bunny on the list, it has the perfect brown fur and white details with a smiling face. Unlike the previous one, this has a black nose and brown eyes without compromising the signature big ears of adorable bunnies. This is perfect to wear at children's parties and promotional events because of its joyful and welcoming appearance.
OOPS… Before you go!
The listed Top 5 Bunny Rabbit Mascot Costumes are just one of the best bets for your upcoming events. There are a lot more options available in our Mascot Store which are guaranteed high quality and made with extra love for you!