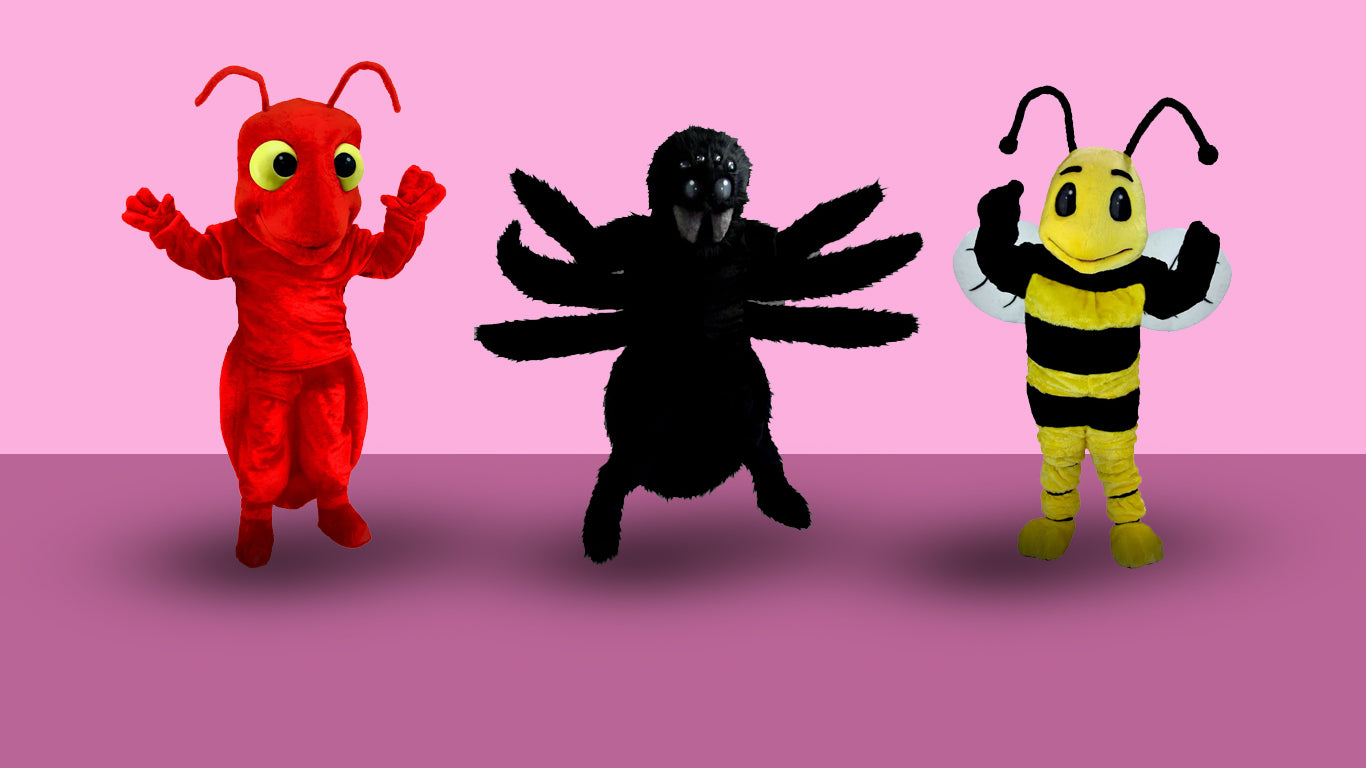 Creating a Buzz: Top 5 Insect Mascot Costumes
These Insect Mascot Costumes will make the impossible possible by showing up as insects in human size.  Every detail was perfectly captured in this mascot costume and made with the best quality, ready to create a buzz at your party!
We have listed the Top 5 Insect Mascot Costumes you can try to make the biggest surprise.
           The first on the list is this Honey Bee Mascot Costume, it has two perfect antennae, a mustard yellow color with smooth black lines, black sleeves, and comb-like teeth in the small wings. This busy bee is always available to buzz your party any time of the day! The happy face and fluffy size will definitely make any of your upcoming events extraordinary.
          This Ant Mascot Costume is perfect for cosplay, birthday parties, or any children's event! Despite the ants being naturally in small size and hard to distinguish, this costume was made with impeccable details–two antennae and dark brown color–the characteristic of the ant is captured in an adorable way which will truly attract the kids to get closer to this surprisingly big ant.
        This is perhaps the best costume to include in your options for your promotional event, not just because these ladybugs are pretty harmless to humans and does not sting, but the colored red shell with perfect black dots is truly mesmerizing to a lot of us! This Ladybug Mascot Costume perfectly captured the remarkable traits of this insect, it has bent antennae, a natural-looking shell, six buns in front of the body, black arms and legs, green eyes, and a perfect smile to welcome all your visitors with the most special warmth!
         In exquisitely black color, this Desert Scorpion Mascot Costume is the best match for any occasion, whether for children's party, promotional events, Halloween, cosplay… everywhere! The large claws and eyes shaded in perfect matte black of this mascot are head turners no matter what is your target age group. You can never go wrong with this timeless-looking Desert Scorpion Mascot Costume.
          Kids who love nature always have a soft spot for grasshoppers! Jumping in long distance, this  Grasshopper Mascot Costume is a perfect surprise to make any kid's event memorable. It has two antennae, dark green body color with popping light green, and a red smiling lip.  The appearance of this mascot is looking tame, welcoming, and friendly which made this the best bet for any upcoming children's party you have!
OOPS… Before you go!
These are just the Top 5 Insect Mascot Costumes we have in our store, there are a lot more options available depending on your upcoming events and target audience. No matter what may it be, we guarantee you that all of our mascot costumes are made with quality, perfect details, and always ready to make the buzz!