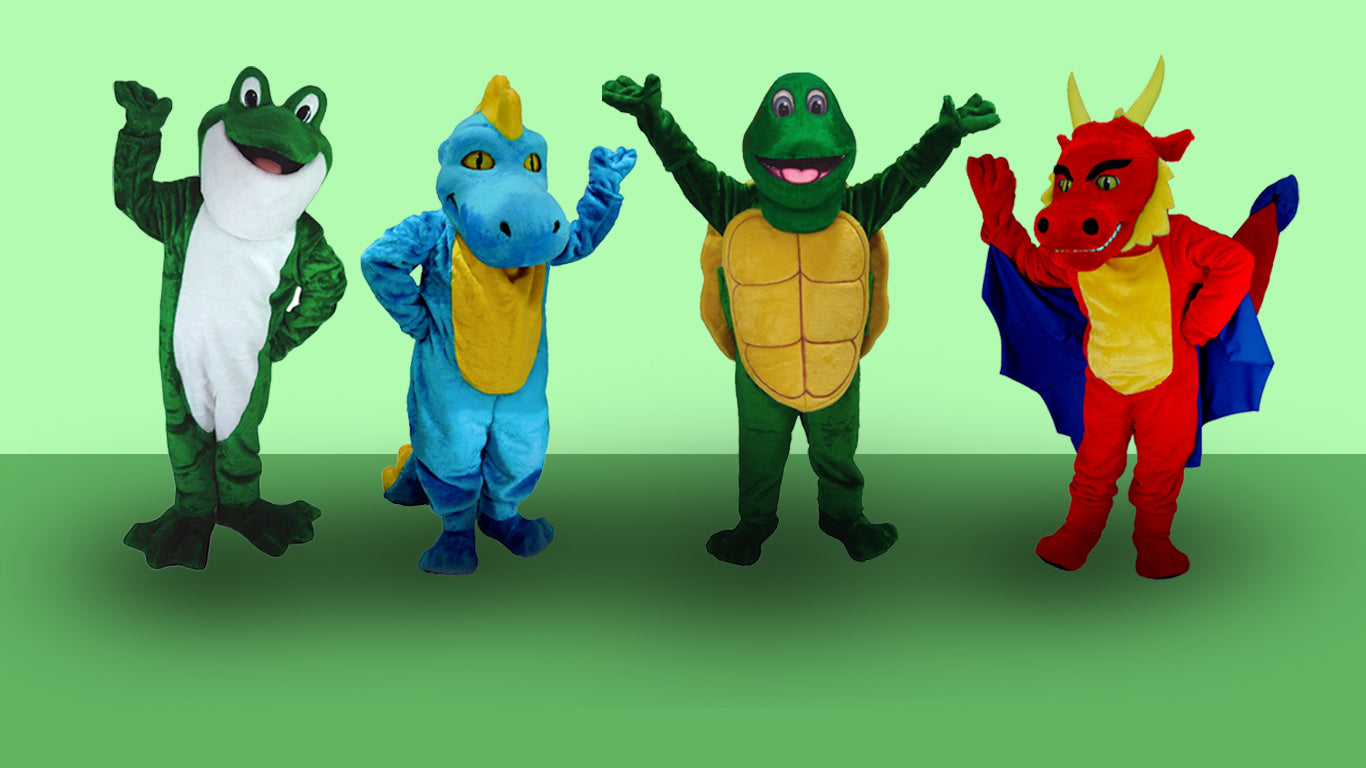 Camouflage! Top 5 Reptile Lizard Mascot Costumes
These creatures have the natural ability to camouflage, but ironically, wearing these Reptile Lizard Mascot Costumes will make you stand out! The colors it possessed can brighten everyone's day by just showing up at your upcoming events.
We listed the Top 5 Reptile Lizard Mascot Costumes to rock your party!
            Who said dragons are just fictional? Show up with this Horned Dragon Mascot Costume to give them unbelievable possibilities. This has the perfect white two horns, well-detailed wings, and popping yellow colors–everyone will definitely identify who this guy is! But unlike the usual dominant aura it possessed, this Horned Dragon Mascot Costume has a friendly aura that is always ready to welcome everyone at the parties, making it memorable and fun!
            Do you want to make it more playful? Try this Crocodile Mascot Costume which doesn't have the usual smiling face of mascots but rather, maintains the dominant appearance of crocodiles. This is best worn at parades, school, or competitive events to stand out among the crowds… Show them who ruled the territories! Which is only made possible by this Crocodile Mascot Costume.
            We all love Dinosaurs which makes this an attention grabber at all events! This Happy Dinosaur Mascot Costume is best worn at business openings or promotional events because of its natural charisma to gather people on the same team and how it always remains remarkable in any situation. This Happy Dinosaur Mascot is covered in moss green but incapable to do some camouflage because it stands out and always loved by the crowds!
            If you were looking for fun colors, this Red Dragon Mascot Costume is the one for you! It has bright red, yellow, and blue colors all around the body. This fiery dragon represents dominance, but its face shows otherwise! Although this Red Dragon Mascot Costume might seem intimidating with its colors, eyebrows, and big nostrils, the friendly look doesn't leave at all! This is best worn around kids, parades, and promotional events.
            The last one on the list is this adorable frog! If you want to play in the comfortably identifiable, yet, making events remarkable, then try this Frog Mascot Costume. It has a moss green color with white details in the center, it also has the perfect circle of eyes and a smiling face with a tongue almost sticking out. This is definitely best worn, not just to present the possible prince charming along the way, but anywhere that surrounds kids because it has the friendly look that everyone will adore!
OOPS… Before you go!
These are just the Top 5 Reptile Lizard Mascot Costumes and there are a lot more options available on the Mascot Store. There is no possibility to camouflage underneath these mascots, prepare to stand out and be the star of the party by making it the most memorable event for everyone!