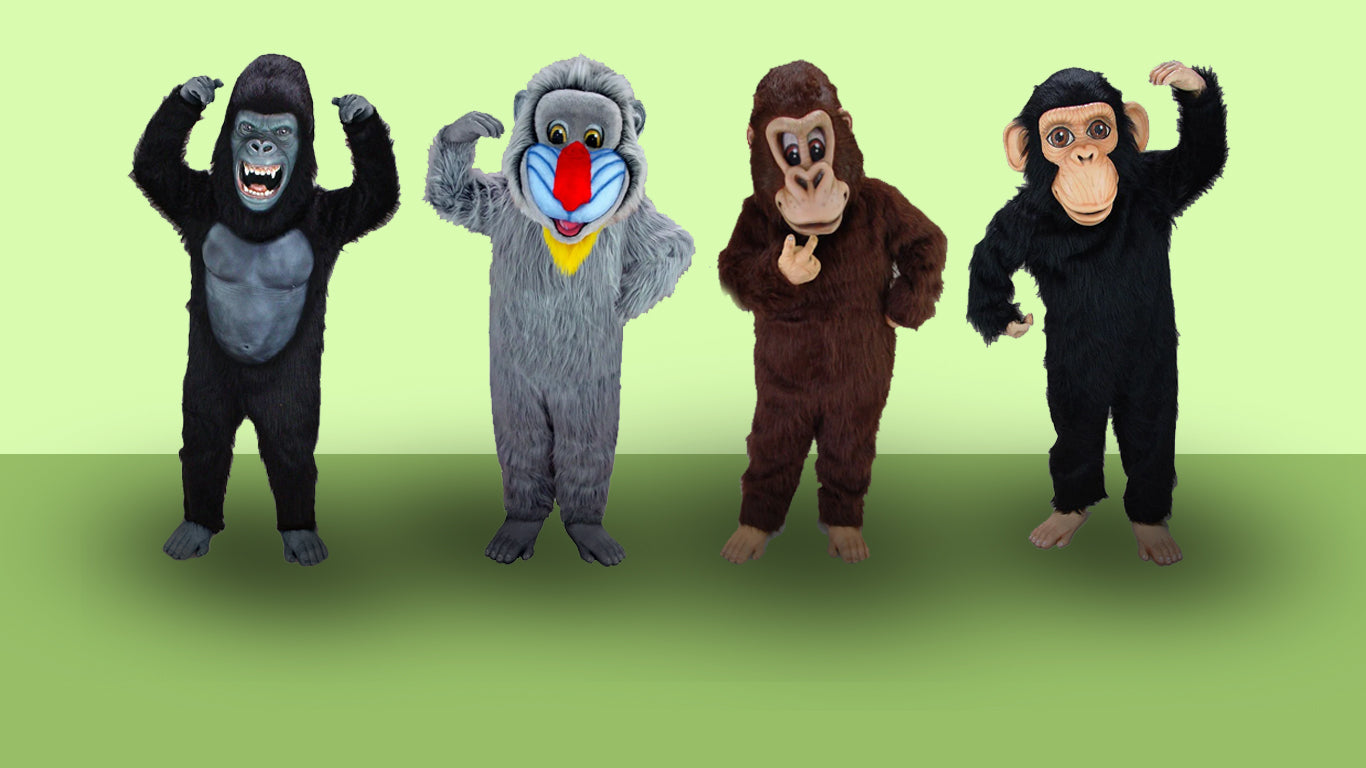 Banana Baby: Top 5 Monkey & Ape Mascot Costumes
Monkeys & Ape are known as smart creatures– they are witty, funny, and naughty all at once! These adorable wild animals are undeniably irresistible. Best worn at parties and any promotional events to entertain and make the best memories for everyone.
Here are the Top 5 Monkey & Ape Mascot Costumes you should try!
          The first on the list is this unimaginable to be seen anywhere, this Chimpanzee is normally found in the native forest of tropical Africa, but a chimp covered in bright pink color with a happy face and tongue sticking out is definitely an exclusive for your party through showing up under this Pink Chimp Mascot Costume. This mascot is best worn at any children's or gender reveal party to surprise the visitors with this cute Chimp ready to be silly around.
          This Black Gorilla Mascot Costume is in perfect black fur and gray colored body. It carries the signature asset of black Gorillas: large nostrils, no tail, and a grumpy-looking face. Mostly, Gorillas are scary and quite intimidating due to their size and aggressiveness. No worries, this guy's presence has a friendly vibe because of his wide smile and blue eyes, in fact, this is perfectly made to make your events extra special.
         If you were looking for the original-looking monkey, then this is the one for you! Brown-coated fur with big nostrils, there is no way someone will mistakenly identify this adorable creature. Try this Monkey Mascot Costume to be silly around and keep the spirit of the party alive, especially around kids who will definitely love this on their side. 
           Another Chimpanzee on the list, but unlike the pinky one, this guy has the natural appearance of a Chimp. It has black fluffy fur, light brown skin and eyes, a large nostril, ears, and mouth. This Chimp Mascot Costume also has the perfect details of wrinkles to emphasize the realistic look, although their color looks intimidating, all Chimpanzee are actually friendly which makes this best worn in any promotional events to somehow show some dominance yet retain the approachable spirit of Chimps.
           We reserved the largest Ape in the last list, this Brown Gorilla Mascot Costume has the perfect dark brown fur with light brown skin, this is definitely the best bet for any party and event! The details of this Brown Gorilla Mascot Costume are really insane–the nostrils, eyes, and forehead almost have the heart shape everyone will adore. The lips also show a playful smile that is perfect for promotions, however, this is a great choice for competitive events to showcase the natural dominance of Gorilla.
OOPS… Before you go!
Please know that we have a lot more options for Monkey & Ape Mascot Costumes, these are just a few bets we have listed for you to try. The presence of Monkey & Apes is a great way to show competitiveness, dominance, and cleverness at any events or upcoming parties you have!